Physiotherapy
Physiotherapy helps restore movement and function when someone is affected by injury, illness or disability, combining knowledge and skill to improve health and well-being (Chartered Society of Physiotherapy, 2011)
Our services
This is a Shropshire-wide service but is not offered in Oswestry at present.
The people we see
This services sees patients aged over 16 who have injuries and conditions which affect the muscles, joints, and soft tissues.
New patients
Patients are referred into the services by their General Practitioner or a consultant.
Services we do not offer
What to bring with you
List of current medication
Clothing suitable for examination such as shorts
Frequently asked questions
It doesn't matter what you wear but you may need to undress down to your underwear if this is necessary to examine and treat your injury or condition. If you are coming for treatment to your leg(s) please bring shorts or a loose-fitting skirt with you.

The physiotherapist will show you into an individual, private cubicle and will ask you a variety of specific questions and then examine you to find out exactly what is wrong. They will explain what the problem you have is and how it is best treated, giving you advice on treatment and exercises you can do at home. If you need another appointment, this will be arranged before you leave.

Physiotherapists are trained to degree level in a qualification accepted by the Chartered Society of Physiotherapy and The Health Professions Council. Many have postgraduate specialist qualifications and experience in acupuncture, occupational health, manipulation, motion analysis and sports injuries.
Where are we?
Princess House
The Square
Shrewsbury
Shropshire
SY1 1JZ
Tel: 01743 283395
Physiotherapy is also offered from various medical practices across the county on a sessional basis
Contact us
Contact us
Bishop's Castle
Tel: 01588 630908
Bridgnorth
Tel: 01746 711050
Ludlow
Tel: 01584 871114
Market Drayton
Tel: 01630 650732
Newport
Tel: 01952 820272
Shrewsbury
Tel: 01743 283395
Whitchurch
Tel: 01948 509235
Managers
Bridgnorth
Rachel Mole
Tel: 01746 711027
Bishop's Castle and Ludlow
Rachael Brown
Tel: 01584 872201
Market Drayton and Whitchurch
Tel: 01948 660812
Newport and Shifnal
Rachel Mole
Tel: 01746 711027
Shrewsbury
Claire Horsfield
Tel: 07968 622470
Who are we?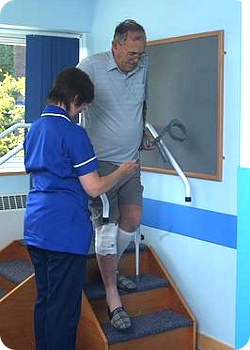 Physiotherapy helps restore movement and function when someone is affected by injury, illness or disability, combining knowledge and skill to improve health and well-being (Chartered Society of Physiotherapy, 2011)
This service is provided to patients of all ages in the following settings:
Outpatients on wards in community hospitals

Outpatients in clinics held in community hospitals or in satellite clinics around Shropshire

In patients' homes, schools or nurseries as part of an integrated team approach to patient care. The team here can include district nurses, occupational therapists and other specialists.
The service is divided into the following:
Outpatients (adults)
This service is run by chartered physiotherapists providing the following outpatient services in clinics across the county:
Outpatient musculosketal physiotherapy
Outpatient neurological rehabilitation physiotherapy
Respiratory outpatient physiotherapy
Women's health outpatients physiotherapy
Outpatient musculoskeletal physiotherapy
This is a specialised area treating injuries and conditions which affect the muscles, joints, and soft tissue. Conditions the service may help with include:
Arthritis
Back pain
Cartilage tears
Fracture rehabilitation
Ligament sprains
Muscle strains
Pre and post surgery rehabilitation
Post fracture rehabilitation
The service provides musculoskeletal physiotherapy assessment and treatment to optimise healing and speed the recovery process. The team works with the patient to set goals and develop appropriate rehabilitation and self management plans.
Some of the treatments which the Musculoskeletal Physiotherapist may use include:
Exercise Therapy
Manual Therapy
Self-management strategies
Outpatient women's health physiotherapy
This service aims to help female patients with incontinence problems. The service provides a thorough assessment by asking questions and examing patients. Treatment may include a home pelvic floor exercise programme and advice on lifestyle habits.
Outpatient respiratory physiotherapy
This service aims to help patients who have breathing problems such as asthma and chronic obstructive pulmonary disease. Physiotherapists may ask patients some questions and listen to their chest. They will discuss and agree achievable goals with patients to help them manage their breathing problem.
Outpatient neurological rehabilitation physiotherapy
This service aims to help people who have a neurological condition such as multiple sclerosis, Parkinsons or are recovering from a stroke. The physiotherapist will assess the patient and thern work with them to agree appropriate goals to work towards.
Useful links
The national websites below give more information about the profession of physiotherapy:
Patient Information
Next review due: 1 September 2020