Day surgery
Who are we?
Shropshire Community Health NHS Trust provides day surgery services at Bridgnorth Hospital, in a newly refurbished day surgery unit.
As part of the refurbishment programme the Day Surgery Unit now includes:
Improved patient facilities and enhanced infection control, including hand hygiene facilities and redecoration of the unit
Replaced hand hygiene facilities with new hand wash basins that are fully compliant with requirements and a new scrub sink to improve infection prevention and control compliance
Relocation of the Automatic Endoscope Reprocessor within the unit (this is a piece of equipment used to disinfect endoscopes)
Replacement of the previous flooring in the procedure rooms to meet infection prevention and control requirements
Purchase of new theatre equipment including endoscopy camera equipment stacks to improve the facilities available to patients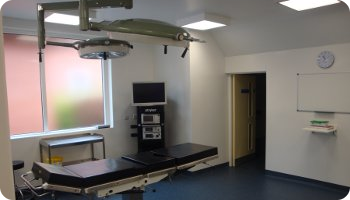 Our services
The below services are offered at the Day Surgery Unit and can be carried out on patients as day cases (this means no overnight stay required)
endoscopy diagnostic services
vasectomies
We also undertake day surgery operations in the following specialties:
general surgery
gynaecology
orthopaedics
podiatric (foot) surgery
The people we see
The Day Surgery Unit sees patients that choose to come to Bridgnorth Hospital for a minor operation that can be conducted under a local anaesthetic. Patients are referred to the service by the GP or consultant.
New patients
The Day Surgery Unit operates Monday to Friday and has no specific opening hours, as appointments are arranged in line with the specific consultant-led sessions.
All surgery is conducted under local anaesthetic.
Services we do not offer
The Day Surgery Unit does not undertake all types of operations. It also does not undertake operations that require patients to have a general anaesthetic.