Supported Self-Management
There is a lot of support available to people suffering from joint and/or muscle aches and pains. Together with colleagues at The Robert Jones and Agnes Hunt Orthopaedic Hospital (RJAH), we have curated a handy page giving links to where you can access this support.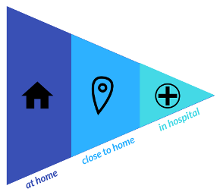 On the supported help management page at RJAH site, you will be able to find links to:
Information you can access at home:
advice on how you can lead a healthy lifestyle, helping to manage everyday aches and pains and help prevent them worsening
more specific advice on conditions and their management
Information on services close to home
referral advice for those with more persistent
aches/pains seeking more individual help
Information on services in hospital:
information on referrals to hospital for a consultant opinion
Please note: Neither Shropcom or RJAH accept responsibility for third party content you access via this page, and only provides links as a source of information.
Useful Links
Next review due: 1 September 2020