Diagnostic tests, X-rays & scans
Who are we?
At our community hospitals in Bridgnorth, Ludlow and Whitchurch and our health centre in Oswestry, we offer a range of diagnostic tests as well as X-rays and scans to save patients having to travel to acute hospitals. Patients will be referred for the tests, X-rays or scans by their GP or consultant.
Details of what tests, X-rays and scans are available at the hospitals and health centre can be found below.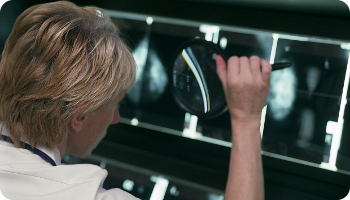 Our services
There are a number of diagnostic tests and scans that are performed at each major community hospital or health centre.
Bridgnorth Hospital
Endoscopy, by appointment only
Phelebotomy (blood-taking) service, by appointment only
Ultra-sound scan examinations, by appointment only
X-rays on patients referred by they GP or consultant, by appointment only, or through attending the Minor Injuries Unit
Ludlow Hospital
The X-ray Department is open from 09:00 to 15:00 Monday to Friday taking referrals from GPs, Consultant led Outpatient Clinics and the Minor Injury Department.
GP referrals are by appointment only. An appointment letter will be sent out following the x-ray department's receipt of the GP referral. Alternatively appointments can also be arranged over the telephone at a time to suit the patient. (Please allow two to three hours after seeing your GP before telephoning).
Oswestry Health Centre
Audiology, by appointment only
Diabetic Eye Screening, by appointment only
Nerve Conduction Studies, by appointment only
Ultra Sound Tests, by appointment only
X-ray (available through MIU)
Whitchurch Community Hospital
Audiology Service - This service is run by SaTH and is by appointment only
Phlebotomy Service - This service is run by SaTH and is available Monday - Friday 09:20 - 00:00 by appointment only
24 hour Electrocardiogram (ECG) Test, 24 hour Blood Pressure (BP) Test, Glucose Tolerance Test by appointment only via GP arrangement or outpatient referral
Visual Field Analysis and Eye Tests, by appointment only
X-ray - The X-ray department is open Monday, Tuesday, Wednesday and Friday 09:00 - 13:00, by appointment only or via the Minor Injuries Unit.
Special Educational Needs and Disability (SEND) and our "Local Offer"
What is the Local Offer?
The local offer provides information for children and young people with special educational needs (SEND) and their parents or carers in a single place. You can find out more about information about this on our SEND reforms and Local Offers page.
SEND/Local Offer information
Full SEND and Local Offer details are located elsewhere: