Oswestry Health Centre
Summary of services provided at this hospital
Oswestry Health Centre opened in July 2011 as a multi-purpose outpatient healthcare centre. Services are provided by Shropshire Community Health Trust, South Staffordshire and Shropshire Mental Health Foundation Trust, The Shrewsbury and Telford Hospital NHS Trust and Cambrian Medical Practice.
A Minor Injury Unit (MIU) is also housed at the Oswestry Health Centre (opening times are provided in our 'MIU information' box to the right).
X-Ray services are also available at the MIU, Monday to Friday (opening times are provided in our 'MIU information' box to the right).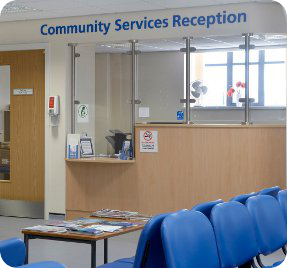 Specific services offered
The main services we provide include:
Ante-Natal Clinics
Audiology (Adults and children)
Bladder screening
Community and Mental Health Services – Children
Diabetes
Ear, Nose and Throat
Falls Clinics

Help to Quit

Memory Clinic
Minor Injuries Unit
Occupational Therapy - Childrens
Orthopaedics
Orthoptist
Paediatric Clinics
Podiatry
Psychiatry Clinics – Adults
Speech and Language Therapy
X-rays (available at the MIU)

What to bring with you to a clinic or overnight hospital stay
You should bring your appointment letter and a list of current medications. Children must be accompanied by an adult.
Frequently asked questions
Yes car parking is free for clients visitng the health centre.

There are a limited number of parking spaces however there is alternative chargeable offsite parking close by.
Special Educational Needs and Disability (SEND) and our "Local Offer"
What is the Local Offer?
The local offer provides information for children and young people with special educational needs (SEND) and their parents or carers in a single place. You can find out more about information about this on our SEND reforms and Local Offers page.
SEND/Local Offer information
Full SEND and Local Offer details are located elsewhere: