Wounds, ulcers & pressure sores
The Tissue Viability Service is a clinically-led specialist service for patients of all ages with a wide variety of complex wounds, skin problems and vascular problems.
The Tissue Viability Service provides a specialist service to patients with a wide variety of complex wounds including
pressure ulcer prevention and management,

management of leg ulceration,

management of traumatic injuries and

complex non-healing wounds.
The team offers vascular assessment, tissue biopsy and histology and sharp debridement of wounds.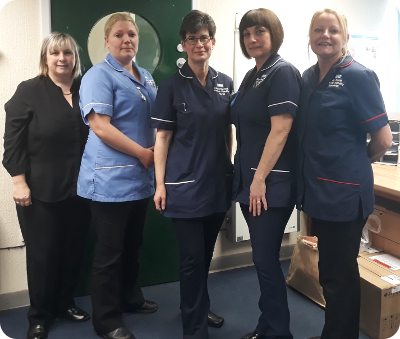 Our services
The 5 key messages to prevent pressure ulcers
Video Transcript
"The only way I can describe it was as though I was sat on top of a hot plate on the cooker"
"It was horrific"
"I get so angry because I'm in bed for so many hours"
"It's a very large cavity and it can be fatal"
"Do you know the stupid thing - I didn't tell anybody"
Pressure ulcers, often known as bed sores, can be very serious. The area may be very red and inflamed.
"I couldn't believe it when I saw it, you know - it looked like a horrible overripe tomato on my buttocks"
A really nasty pressure ulcer can be a deep cavity. You may be able to see muscle, bone, or tendon; the wound may also bleed or weep fluid. They can be very foul smelling like rotting flesh. The worst thing that can happen is complications causing death.
People don't realise how they do impact on lives.
"I couldn't sleep - no sleep day or night, and at times I felt reduced to tears"
Awareness is the key!
"Being the silly old twit that I am, I didn't complain until my wife saw me wincing"
If we're not able to look after our own skin, then somebody else needs to be doing it for us. They need to be looking out for any signs of discolouration, numbness, pain, itching, heat, or hardness.
"I got one right on the coccyx, on the bottom of my spine"
The most common area for pressure ulcers to develop is on bony prominences: the bottom, the ankle bone, the heel, the base of the spine, bony shoulders, elbows.
"I'm on dialysis 3 days a week, four hours at a stretch - you're bound to sit still"
Pressure ulcers can happen to anybody, at any age. We see a lot of patients that are: elderly, disabled, pregnant women during labour, young children can get pressure ulcers - anybody that's got poor mobility.
"The reason I'm sitting all the time is that I've got a spinal problem. I use my chair to get me up on my feet and stand, even if it's only for two or three minutes"
The 5 key messages to prevent pressure ulcers are:
to look at the Surface that you sit on, and that you sleep on at night: it might be that you need a special cushion or mattress that helps redistribute the pressure evenly

always check your skin: Skin inspection is so important in picking up skin changes early on
always Keep moving and keep mobile: the ideal for someone at home is to move every two hours
Incontinence and increased moisture: any moisture against the skin will make the skin more fragile and vulnerable to breaking down
Nutrition and hydration: a good healthy diet is very important in preventing pressure ulcers
(this can be remembered by the acronym: "S SKIN" - Surface, Skin, Keep moving, Incontinence and increased moisture, Nutrition and hydration)
"The worst thing I did was put up with it - I should have gone long before I did"
The message we want people to take away with them is: help us to help you prevent pressure ulcers.
"I'm hoping we're going to to see the end of them, you know - I'm determined (laughs)"
---
For more information about pressure ulcers, please speak to a healthcare professional or phone the helpline on 07794053768, or visit our web page: www.shropscommunityhealth.nhs.uk/pups.
The people we see
The Tissue Viability Service is available to all age groups requiring the skills of the specialist tissue viability team.
New patients
All patients are referred to the Tissue Viability Service by an accredited referrer such as any allied health care professional, hospital consultant or GP. Patients and their carers can also refer themselves to the Tissue Viability Service. Contact the service (using the contact details on the right of this page) for more advice and information on how to do this.
Services we do not offer
We do not offer a wound dressing service. This service is offered at GP practices or through the community nursing teams.
The community Tissue Viability Service is not offered on the wards of the Princess Royal Hospital or Royal Shrewsbury Hospital. The hospitals have their own Tissue Viability Nurse Specialists.
What to bring with you
Please bring with you on your first appointment:
Medication
Patient held records
Current wound dressings/bandages
Any food for specific dietary requirements
Urine sample
If necessary, a carer or professional to support the assessment
Frequently asked questions
We visit patients in their homes or they are asked to go to local clinics, GP surgeries or the hospital outpatients. We will discuss the options with individual patients.

We endeavour to see patients as soon as possible. Times will be discussed with patients when they are referred to the team.
Where are we?
Tissue Viability Service
Unit D7
Hortonwood 7
Hortonwood
Telford
Shropshire
TF1 7GP
Contact us
Contact us
Specialist Tissue Viability Service
Tel: 01952 670925
Who are we?
The Tissue Viability Service delivers competency-based education and training to all staff. We offer advice and support to staff, patients and carers.
We have a multidisciplinary approach to a program of care - which means we have access to a range of specialist nursing skills and experiences.
Next review due: 1 September 2020