What is an NHS number?
The NHS Number is the only national unique patient identifier in operation in the NHS at this time. Each NHS Number is specific to an individual person. Every baby born in England and Wales is given an NHS Number at birth.
The Use of the NHS Number is fundamental to improving patient safety across all care settings by:
Reducing clinical risk caused through misallocation of patient information
Resolving some of the barriers to safely sharing information across healthcare settings
Assisting with long term follow-up processes and audit
If you are registered with a GP practice you will have received a letter from them containing your NHS Number. If you can't find your NHS Number at home, contact your GP Practice. To protect your privacy, they may ask you to show them a passport, driving licence or some other proof of who you are.

You'll need your NHS Number to book hospital appointments online through the NHS e-Referral Service or to register for the Electronic Prescription Service.

Your NHS Number is unique to you. Using the NHS Number to identify you correctly is an important step towards improving the safety of your healthcare. If you know your NHS Number you can help healthcare staff find your records mores easily and share them safely with others who are caring for you.

As an added safety measure, you can start checking the things the NHS sends you to make sure they have the right NHS Number and the information relates to you.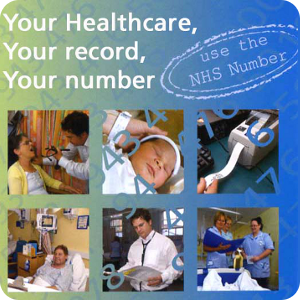 Useful information for patients
You may find the following information useful to find out more about the NHS Number:
Useful information for healthcare professionals
Next review due: 1 September 2020
Contact information
Records Manager and Caldicott Support
Alan Ferguson
William Farr House
Mytton Oak Rd
Shropshire
SY3 8XL
Tel: 01743 277617
Email the Records Manager