International Nurses Day 2020 - meet some of our nurses
International Nurses' Day is celebrated around the world each year on 12 May, the anniversary of Florence Nightingale's birth.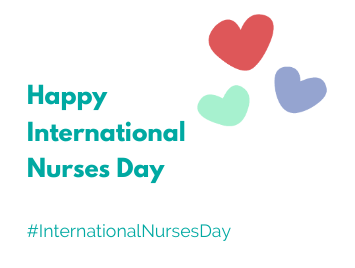 The day provides an opportunity to mark the contribution of nursing staff and reflect on the vital work they do everyday. This work is even more vital now considering the coronavirus global pandemic. Our nurses have a wide range of roles and areas of expertise. We asked them to send us a selfie and tell us more about what they do. Here are some of the replies we received.

Sophie - Community Nurse
Hello, I'm Sophie. I am a Community Nurse and have been in this role for five years now. Often my role as a community nurse can be misunderstood- we deliver a wide range of nursing interventions to patients in their own homes and play a key role in ensuring holistic and person-centred care. This can help reduce hospital admissions.
What I love most about my job is knowing that I can truly make a difference to a patient's life by supporting them to be safe at home where they want to be ♥️

Paulson - Charge Nurse
My name is Paulson. I am a full time Charge Nurse at Agnes Campbell ward at Bridgnorth Hospital. I work with adult in-patients on a 25-bed ward for rehabilitation and post operative care prior to patients returning back to their own home. We also provides palliative (end of life) care for those patients that require it. The hospital provides services for patients who are 18 or over and who need hospital care but do not need admission into an acute (main) hospital.
I really enjoy my job, providing the best care to the patients, along with other multidisciplinary team members. As a team we can see the outcome of our patient care from the patient and family feedback and the speedy recovery of the patients. As an overseas nurse from India I am proud to be part of Shropshire Community Health NHS Trust.
Michelle - Health Visitor
My name is Michelle and I am a Health Visitor in Telford. I am a qualified nurse with 16 years experience, eight of those were spent working on the neonatal unit in Shrewsbury. In 2012 I completed my specialist Community Public Health Nursing degree and have been working as a Health Visitor in Telford since.
I love how varied the role is, one minute I can be supporting a new mum to breast feed, the next assessing a child's development. We work with lots of other agencies to support children and families under 5. I have a specialist interest in families with multiples and I am currently completing a specialist module run by Birmingham City University which has been funded by the Elizabeth Bryant Centre for Multiple Births. I am very proud to be a nurse especially at the moment, whilst we are working to support families during the global pandemic.
Sarah - Practice Education Facilitator
As a student nurse in the Welsh hills in 1990, a placement with an exceptional District Nurse mentor ignited a passion for community nursing which set me on my career path. I joined the Trust on 1
st
August 1994 and had the honour of caring for patients in their own homes as a District Nurse and latterly Interdisciplinary Team Leader until February 2015. District nurses have the privilege of caring for patients and their families when they are at their most vulnerable, sharing the ups and the downs of living with long term and life-limiting conditions.
During my District Nursing career, I relished the opportunity to support others to grow and develop professionally, particularly students. I remember how important my inspirational mentors and role models were in shaping my early career. I never imagined leaving District Nursing to take up my current post as Practice Education Facilitator but I have been so fortunate to have the opportunity to focus on education and support the professional development of others. I'm heartened by the support of our student nurses who have joined our workforce during the current pandemic; they are passionate, caring and professional and fill me with confidence that the future of our profession is in safe hands.
Next review due: 1 September 2020