Children's speech and language therapy
The Children's Speech and Language Therapy (SLT) Service in Shropshire provides assessment and treatment of speech, language, communication and/or swallowing difficulties for children and young people from birth to 16 years old (or to 19 years if in full time education).
Speech and Language Therapists are "Allied Health Professionals" and are governed by two ogranisations;
The Health & Care Professions Council (HCPC): all Speech and Language Therapists must be registered with this organisation in order to call themselves Qualified Speech and Language Therapists.
The Royal College of Speech and Language Therapists (RCSLT): to be eligible for full membership of this organisation members must have successfully completed a degree qualification in Speech and Language Therapy.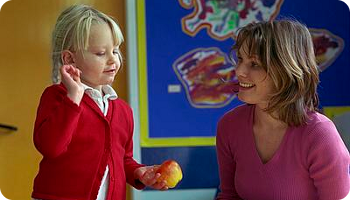 Our services
What we offer
What this involves
Assessment


We assess the child and young person's speech, language and communication or eating, drinking, swallowing skills. This may happen at home, in a clinic, at School or Early Years setting.

Treatment

The treatment is dependent on the child or young person's needs. Our core offer is assessment and joint planning to help parents, carers and others to support the child's communication. Direct treatment, when needed, is usually in a group and occasionally individually. We offer these interventions in clinics, Schools, Early Years settings and sometimes at home, based on the child's needs.

Specialist Treatment

Specialist treatment in Telford and Wrekin is provided at the two Language Classes for children with Developmental Language Disorder (DLD) previously known as Specific Speech or Language Impairment. In Shropshire this Specialist service for school-aged children is provided by outreach support to schools.

We have specialist teams who work with children in the areas of Dysfluency (stammering), Cleft Lip/Palate, Dysphagia (Swallowing), Learning and Physical Disabilities and ASD (Autism). Some of these specialists are based at the Child Development Centres or at Special Schools across the county. Other teams provide Specialist services in the community and Therapists will often arrange sessions at local clinics.

Telford and Wrekin Local Authority commission a specialist service, SALTIS, to provide additional support for children in Reception and Year one in their Schools.
Training

We offer training packages to parents, usually in the form of parent groups. We provide training to Schools and Early Years settings and to partner organisations mainly through our traded services.

See our Traded Services brochure or contact Coral House.

The people we see
The service is open to referrals from anyone who works with children and young people up to 16 years old, or 19 if in full time education, and from parents/carers directly.
We accept referrals for children with moderate to severe speech, language or communication needs, and there is also a specific service offering parent training for children with mild to moderate speech difficulties where parental anxiety is high.
We also work with some children with eating, drinking and swallowing needs.
New patients
Referrals to the Speech and Language Therapy team can be made either through a Health Professional (such as a Doctor/ GP) or through a School or Early Years setting referral.
Parents or carers may also make self referrals by telephoning Coral House on 01743 450800.
Please see our referral forms in the Patient Information below.
Existing patients
After your initial appointment with the Speech and Language Therapist they will share their direct contact details with you.
If you are unsure of the name of the Therapist you have an appointment with, or you wish to make a general enquiry please contact either Coral House on 01743 450800 or The Stepping Stones Centre on 01952 567300.
Services we do not offer
Elocution and working on accents.
Dyslexia and helping children to read and write.
Teaching children how to speak English as an additional language (EAL).
We do not see older children with sensory or behavioural eating or drinking difficulties.
Young people aged over 14 with voice disorders should be referred to the SLT voice team at Shropshire and Telford Hospital NHS Trust. Contact 01743 261417.
Ongoing care for Children and Young People who go to School in other Local Authority Areas until this has been formally agreed with the team and, if needed, commissioners.
Children and Young People who go to School in Telford or Shropshire who have GPs with other Clinical Commissioning Groups unless this has been formally agreed with commissioners and the team.
What to bring with you
Any relevant paperwork either medical or educational.
We do not routinely look at the 'red book' but the information in there can be useful.
Frequently asked questions
Take a look at the Talking Point Parents' web page. There is lots of useful information here. There is also a progress checker.

All children have different strengths and abilities. At the same time their general development is likely to follow a similar pattern. There are lots of different possible causes. It is not always possible to find out why your child has a communication problem.

Often difficulties with 'understanding' language and 'talking' are part of a picture of 'delay'. This means that with extra help from everyone who knows the child this delay can be reduced and they can start to catch up with their peers. If your child has a difficulty with understanding language or with social communication we are likely to ask a Paediatrician for their help in finding out why this might be.

Occasionally children may have a difficulty with communicating that is very specific, which means that no other area of their development is affected, just their Speech or Language. We aim to give these children the highest level of support.

Sometimes children have communication difficulties alongside other developmental, learning, sensory or physical difficulties. We work closely with Parents and Staff in Early Years settings and Schools to support children to develop their functional communication skills. This may be through training and coaching or the use of technology, symbols or signing, not just through talking and listening

It is very rare for anything an adult has done to have caused your child's communication or feeding difficulties. There are lots of everyday things that Parents and Carers can do to help children to develop well, such as trying to limit the amount of time your child has a dummy during the day, trying to increase the amount of time you spend playing or reading with your child each day, and telling your child things rather than asking questions.

Parents can call our main office at Coral House on 01743 450800 and will then be asked a series of questions by our administrators. One of the Speech and Language Therapy Team may call you back to understand more about your concerns.

We accept referrals from other agencies, including Early Years' settings, Schools, Childrens Centres and Health Visitors.

We aim to see all new referrals within 18 weeks from the date we receive the referral form. Often we are able to offer an appointment sooner than this. You will usually receive an 'opt in letter' and when you contact us we will offer you different appointment date options.

Initial clinic appointments may last up to 45 minutes, or 45 to 90 minutes if it is an appointment for dysfluency (stammering).

Review and Treatment appointments usually take less time.

Please telephone Coral House on 01743 450800 or The Stepping Stones Centre on 01952 567300 as soon as possible.

Don't worry this happens quite a bit. Sometimes even very shy children do eventually 'warm up' and speak. If not we can arrange to see them again, either back in the clinic or somewhere else where they feel more comfortable.

Clinic-based treatments are usually offered in groups, and occasionally individually, which may run over several weeks. Following a block of treatment your child will sometimes be offered a review appointment. The length of a review period will vary and will be agreed between you and your Therapist..

Some children may only need one block of treatment. Others may require more intervention. This will depend on the nature of your child's difficulties.

Training and coaching for Parents, Carers and other Professionals may be over one or more sessions with periods of time between appointments to try the new ideas, games and activities and to feedback.

Specialist interventions for children with Developmental Language Disorder (DLD) may be longer in duration and/or higher in frequency

Early intervention is proven to be very effective and the amount and frequency of Speech and Language Therapy support required by most children decreases as they progress from Early Years Settings into School, and in particular into Key Stage 2. We expect that some children will be re-referred as their needs change.

We aim to adapt the services we offer to meet the needs of each individual child. This means that your child may receive support in a number of different ways. Your local therapist will discuss the options with you at your initial appointment or future review appointments.

Packages of care we may offer;

Assessment and Advice
Clinic-based therapy: this will be part of a group and occasionally individually.
Training for parents/carers, School and Early Years settings with programmes of ideas, games and activities to be followed by everyone involved with your child.
Intensive Speech and Language Therapy in partnership with Speech, Language and Communication Teaching in Language Class (Telford) and Severe Specific Language Impaired Children's Service (SSLIC) (Shropshire)
Speech and Language Therapy Inclusion Service (SALTIS) (Telford)

Children may be discharged from the Speech and Language Therapy Service for a number of different reasons.

These reasons may include;

When the Speech and Language Therapist's advice will remain relevant for several months; your child can be seen again through you or his or her Teacher contacting the service for a review appointment if this is within 12 months of being discharged or through a re-referral if your child's needs have changed.
When your child has reached their targets.
When your child speech, language and/or communication needs are no longer impacting on their functional communication.
When their communication skills are developmentally in line with their peers
If parents/carers or older children, who have capacity, choose that they would no longer like support from the service
If you and your family move out of the area
If your child is not brought to more than one appointment with no contact to re-arrange the appointment
Where are we?
We cover Shropshire and Telford and Wrekin.
We have clinics in the following locations across the county
| Shropshire Community Clinics | Telford & Wrekin Community Clinics |
| --- | --- |
| Albrighton | Donnington |
| Bishop's Castle | Hadley |
| Bridgnorth | Madeley |
| Craven Arms | Newport |
| Ludlow | Stirchley |
| Market Drayton | Telford - Stepping Stones |
| Oswestry | |
| Shrewsbury (various locations) | |
| Whitchurch | |
Contact us
Contacts by location
Shropshire services:
Coral House
11 Longbow Close
Harlescott Lane
Shrewsbury
SY1 3QZ
Tel: 01743 450800
Telford and Wrekin services:
The Stepping Stones Centre
Brunel Road
Malinslee
Telford
TF3 2BF
Tel: 01952 567300
Useful links
There are a range of regional and national groups and organisations that can offer support and help to children who have speech, language or communication issues and their families. Some of the more useful are highlighted below:
Patient Information
What is the Local Offer?
The local offer provides information for children and young people with special educational needs (SEND) and their parents or carers in a single place. You can find out more about information about this on our SEND reforms and Local Offers page.
Service Description
The Children's Speech and Language Therapy (SLT) Service across all of Telford and Wrekin and Shropshire provides assessment and treatment of speech, language, communication and/or swallowing difficulties for children and young people from birth to 18 years old (or to 19 years if in full time education).
Please see the "Our services" section for a complete list of what we provide.
Please be aware that waiting times for appointments vary in response to changes in demand.
What do you provide to children and young people with an additional need and or disability 0-25yrs?
We provide a client centred Speech and Language Therapy service to children and young people( up to 19 years old) who have additional needs or disability in the following groups
Pre-school children with developmental speech, language and communication needs.
RTA / Trauma / Hospital discharge for children with eating, drinking or swallowing difficulties and children who need alternative or augmentative communication (AAC).
Children referred for Child Development Centre (CDC) multi-disciplinary assessment
Children undergoing Educational Health Care Plan assessment who are already known to the teams.
Children with severe / specific learning difficulties, physical disability or other complex needs, where there is an additional identified functional speech/language/ communication need and/or eating/drinking/swallowing need, in

Special Schools in Telford (Bridge, Haughton, Southall) and Shropshire (Severndale, Shrewsbury)
Early Years settings and Mainstream Schools in Telford and Shropshire and in other Local Authority Areas by prior agreement with the team and, if required, with commissioners.
and those who are home schooled

Children with Developmental Language Disorder (DLD)
Children with Cleft Palate Disorders
Children with Dysfluency
Children with Voice Disorders
We work in partnership with the child, parents, family and carers, professionals and voluntary organisations to provide interventions that maximise the potential of each child.
The amount, frequency and type of therapy assessments and interventions are based on each child's strengths, difficulties, and needs.
The need for ongoing intervention is regularly reviewed with the parents, child or young person and other professionals.
We regularly evaluate the quality and effectiveness of the service through user feedback, and outcome measures.
Do we provide support for parents and carers?
Although assessment and intervention is focused on the child's needs, support is provided for the child's parents or carers to help them to understand their child's need, to enable them to develop and use strategies, activities and skills to support their child, and to be at the centre of their child's care.
Who can use our service? Age? Disability?
Our service is available for children aged between 0-18 years (19 years if in full time education) who are registered to a GP within either Shropshire or Telford and Wrekin geographical boundaries. We actively encourage parents and professionals to refer children before year 6 in Primary School, or by the end of year 7 in Secondary Schools.
The service is offered to all children and young people regardless of ethnic, cultural, spiritual, gender and disability backgrounds
How to access our service (inc. referral routes)
We operate an open referral system. We accept referrals from parents, school or any other professional with parents' consent for children between the ages of 0 to 18.
We ask that all referrals are made using our age related referral forms which are available from our administration teams or can be downloaded from our website. We accept letters of referral from consultants and GPs. Parents are able to make telephone referrals. We actively encourage all school SENCOs to make referrals early in the school year and no later than May 1st each year.
Existing patients can contact us directly for help and support. We are able to discuss any difficulties up to one year after discharge, by telephone, without a re-referral (01743 450800)
When and where is our service available?
The service is currently open Mondays - Fridays, 8.30am to 5pm (except Bank Holidays).
Our main bases are shown in the "Contact us" section on this page (right-hand column).
Clinics are held across the different venues on different days of the week. We use clinic space at the locations listed below.
Shropshire
Bishop's Castle
Bridgnorth
Coral House
Craven Arms
Ludlow
Market Drayton
Monkmoor Campus (Shrewsbury)
Oswestry
Princess House
Whitchurch
Telford
Donnington Health Centre
Hadley Clinic
Newport (Cottage Hospital)
Ercall Wood School
Stepping Stones (Malinslee)
Stirchley Medical Practice
Woodlands Child and Family Centre (Madeley)
Community settings

Our Speech and Language Therapists work in schools and various community settings. Parents may be asked to travel to clinics or schools for appointments. Therapists may visit children, young people and their carers/families at home to monitor their progress or provide interventions.
How can families contact the service?
Families can contact the service to ask for advice or find out more about what we provide by contacting us on:
Interpreters are available for assessments for children and young people if it would be helpful for them or their main carers.
Feedback and Complaints
The service receives feedback from parents, partners and children and young people in the following ways:
Friends and Family Test (FFT)
Our planned audits which include user feedback
Care planning and goal setting reviews
Sharing and learning from informal comments, complaints and compliments
Wherever possible complaints are dealt with verbally and locally with clinical staff, clinical leads and managers. If you have any questions or concerns please talk with your child's Speech and Language Therapist.
Shropshire Community Health Trust has a dedicated Patient Liaison Service (PALS) and a Complaints Manager who are both available to be contacted for support. A link for further details about these services may be found in the relevant section below.
For external agencies: is the service free or charged?
Currently support for individual children is free. Charges may be made for training.
Is the service accredited? If so, by whom?
Care Quality Commission
Next review due: 1 September 2020