STILE Diabetes Programme
STILE - Shropshire Titration of Insulin and Lifestyle Education - Carbohydrate Counting and Insulin Dose Adjustment for Type 1 Diabetes
STILE is run one day a week for four weeks.
It is for people with Type 1 diabetes who inject rapid-acting Insulin with meals and long-acting Insulin 1 to 2 times a day.
You will be taught how to work out the amount of carbohydrate in the food you eat and then to use this information to calculate how much Insulin to inject.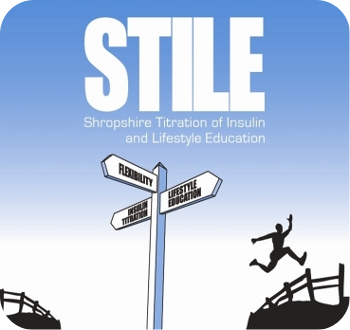 How to book onto a STILE course
If you would like to attend this course, please see either your GP, Consultant, or Diabetes Specialist Nurse who can then refer you to our service, we will then forward all the details to you about the course.
To book a place on the STILE course, either contact the central office by telephone on 01743 277693 / 01743 277694, or e-mail shropcom.shropshiredsn@nhs.net
Course locations and dates
The STILE courses are run in Shrewsbury and Telford and the dates available are as stated below:
Shrewsbury
The Lantern Centre, Meadow Farm Drive, Sundorne, Shrewsbury, SY1 4NG
Session 1 Tuesday 21 April 2020, 9.30am to 4pm
Session 2 Tuesday 28 April 2020, 9.30am to 4pm
Session 3 Tuesday 5 May 2020, 9.30am to 4pm
Session 4 Tuesday 12 May 2020, 9.30am to 4pm
Mereside Community Centre, Mereside, Springfield, Shrewsbury, SY2 6LH
Session 1 Wednesday 4 November 2020, 9.30am to 4pm
Session 2 Wednesday 11 November 2020, 9.30am to 4pm
Session 3 Wednesday 19 November 2020, 9.30am to 4pm
Session 4 Wednesday 25 November 2020, 9.30am to 4pm

Telford
Meeting Point House, Town Centre, Telford, TF3 4HS
Session 1 Wednesday 26 February 2020, 9.30am to 4pm
Session 2 Wednesday 4 March 2020, 9.30am to 4pm
Session 3 Wednesday 11 March 2020, 9.30am to 4pm
Session 4 Wednesday 18 March 2020, 9.30am to 4pm
Next review due: 1 September 2020
Contact Us
Community Diabetes Specialist Nursing Service
The Cottage
William Farr House Site
Mytton Oak Road
Shrewsbury
Shropshire
SY3 8XL
Tel: 01743 277693 or
Tel: 01743 277694
Email the team