Stop Smoking
Who are we?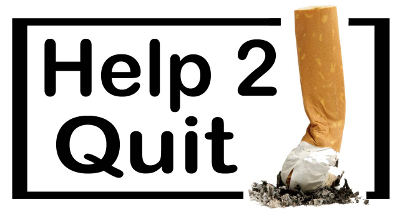 Help 2 Quit is a free NHS stop smoking service in Shropshire – you are four times more likely to quit with our help than if you attempt to stop smoking on your own.
More people quit with Help 2 Quit
Last year, Help 2 Quit saw 8116 clients, nearly half (48%) quit for 4 weeks or more. This is more than any other service operating in Shropshire.
17 years of success in stopping smoking
This NHS service has been helping people to quit smoking for 17 years and has seen around 85,000 clients in this time.
Help 2 Quit is available in almost all GP surgeries in Shropshire. Ask at your GP practice to see the Help 2 Quit Nurse.
Help 2 Quit is also provided in many:
Pharmacies
Community venues
Hospitals
Selective supermarkets
Our services
Help 2 Quit offers free advice, support and treatment to help you stop smoking. Prescription charges may apply.
Specially trained Help 2 Quit advisers, including practice nurses, midwives, pharmacists and school nurses, are available in venues across the county to help you to put your plan to stop smoking into action.
New patients
New patients can self refer using the online referral form or by calling Help 2 Quit on 01743 453537. You can also be referred to the Help 2 Quit service from GPs, hospitals, dentists, opticians and diabetes colleagues.
Your first Help 2 Quit appointment normally lasts 30 minutes, where an adviser will look at your smoking habits and behaviour and choose an appropriate treatment if required.
You will then have 10-15 minute weekly follow up appointments, where your Help 2 Quit adviser will provide further encouragement, support and any treatment that you may need during the 12 week programme.
Are there any age restrictions to the service?
Yes - we are currently unable to see people under the age of 12 years old.
Existing patients
100% of people recommend Help 2 Quit
95% of clients who responded to our survey, report being very satisfied or satisfied with the service and
100% of clients who responded to our survey said they would recommend the service to family or friends
Services we do not offer
As we are a stop smoking service, we do not offer the option to just cut down. We are also only able to see people who are smokers of tobacco.
What you should bring with you
A willingness to be motivated and ready to quit smoking.
You will need to be prepared to change your behaviour around smoking, dealing with both the addiction and the habit. It may take several attemps to quit, so don't give up giving up.
Frequently asked questions
Yes - it takes adults on average four to six serious attempts to quit successfully long term, so don't stop trying.